RIVERSPEAK Standard Communication Phrases for Inland Navigation have been developed
Published: July 31, 2017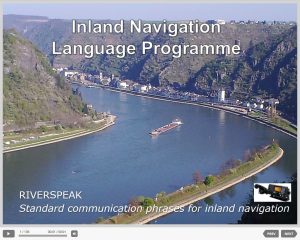 The RIVERSPEAK Standard Communication Phrases for Inland Navigation have been developed to:
enhance the safety in inland navigation through standardization of communication in the English language
support the training institutions and their students in achieving the above objective.
The main focus of the RIVERSPEAK standard communication phrases lies on the communication between ships and with land stations on inland waterways, lakes and in coastal areas, and shipboard-communication on board of inland barges.
Distress-, Urgency- and safety communication forms an important part of the phrases.
RIVERSPEAK is available as APPS, with images and sound. It is free of charge and can be played on any device.
It will form an excellent tool for lecturers and students to teach and learn the practical way of communication and language used in inland navigation.
The RIVERSPEAK programme consists of ten bi-lingual versions, i.e. ten different languages that are now commonly used to communicate on the inland waterways, combined with the English standard of communication.
The following versions are freely available (click to open the presentation, or visit the website):
RIVERSPEAK is part of the Inland Navigation Language Programme INLP, which is part of ShipSpeak (Publishers Alk&Heijnen – Alkmaar The Netherlands – see the ShipSpeak website). More versions of RIVERSPEAK for other countries (European and worldwide) will and must be developed to build an international platform of RIVERSPEAK tools. We invite anyone who wishes to contribute to send a mail to kluijven(a)caiway.nl.