RIS Week & RIS Common Issues Day. Edition "December 2018" in Vienna
3-7 December 2018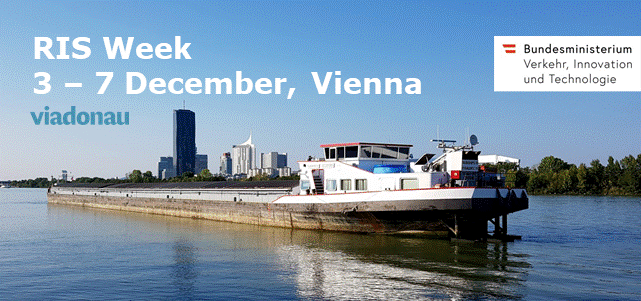 The upcoming RIS Week will be hosted by the Austrian Federal Ministry of Transport, Innovation and Technology in cooperation with viadonau in Vienna, from 3 to 7 December 2018 at the Techgate Vienna, Donau-City-Strasse 1, 1220 Vienna.
An indicative schedule for the complete RIS Week is HERE.
The Common Issues Meeting on 5 December 2018 aims at discussing on how digitalisation and smart shipping initiatives will impact the evolution of River Information Services. PIANC Working Group 125 is invited to present its proposal for the revised PIANC RIS Guidelines. In addition, an update on the European policy developments in connection with RIS and DINA will be given. An exciting meeting is awaiting us!
Vienna is a busy destination, so make sure to book your travel arrangements as soon as possible! A Practical Guide to the RIS Week including a list of hotels close to the meeting venue is HERE.
Registration is open till 16 November 2018. More can be found under RIS Expert Groups website.