Slovak SPP will make LNG available as a fuel in the port of Bratislava
Published: November 24, 2017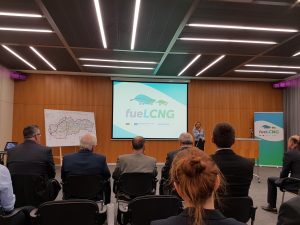 On 23 November 2017, the Slovak Gas Company JSC (SPP) officially launched a project "fueLCNG" aiming to support the use of natural gas in transport.
By completing the project in 2020, there will be 14 new CNG filling stations along the main motorways in Slovakia and 3 new LNG filling stations mainly for the heavy duty transport sector. The seventeen filling stations for natural gas shall strengthen confidence among vehicle users and suppliers and shall actually trigger the use of natural gas in transport in Slovakia. In addition, the first natural gas liquefaction plant will be built in Slovakia, thus creating conditions to ensure a continuous supply of natural gas (liquefied and compressed) to all transport segments.
"The project is not limited to road transport. We want to make LNG available as a fuel at the port of Bratislava. There is no other alternative to diesel than LNG for the inland waterway vessels, and we see the great growth potential in this transport segment in the future," informed the general director of SPP, Mr Štefan Šabík.
Therefore, as an outcome of the project there will be a possibility to bunker inland vessels in the port of Bratislava by 2020; in the first step as truck-to-ship bunkering option.

The project is co-funded from the Connecting Europe Facility (CEF Transport) of the European Union with the grant of almost EUR 15.7 million.
The project website: www.fuelcng.sk