Zeppelin offers solutions for new emission regulations in inland shipping
Published: March 13, 2019
Source: www.zeppelin-powersystems.com. 05.03.2019


Zeppelin Power Systems will continue to offer Cat marine engines that comply with the new EU Stage V emissions standard for non-road mobile machinery (NRMM). Depending on the power range, these will contain different exhaust after-treatment solutions.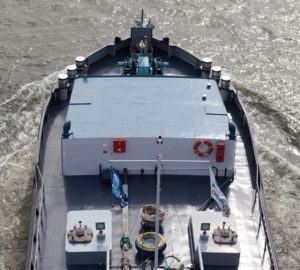 "Inland shipping is a very important segment for us, and we want to continue to serve it with our Caterpillar marine-specific engines," explains Andreas Schmuck, Head of Sales High-Speed ​​Engines, Marine Division, Zeppelin Power Systems. "That's why it's our top priority to offer our customers solutions that meet the stringent requirements of the new emissions standard, and to invest in the Stage V-certification of our marine engines." Zeppelin Power Systems will deliver the first engines with the appropriate exhaust after-treatment from Caterpillar in early 2020.
The EU-initiated NRMM Directive has been in force since January 2019 for propulsion systems up to 300 kW. From 2020, the stricter limit values ​​will also apply to engines with more than 300 kW. In order to meet the requirements, an exhaust after-treatment in conventional internal combustion engines is mandatory.
In addition to the distribution of new engines, Zeppelin Power Systems offers a wide range of services that are already trusted by many of the leading inland shipping companies, including tailor-made inspection and maintenance concepts for prevention and early detection that ensure reliable engine operation. In addition, the Caterpillar dealer network is available 24 hours a day, seven days a week, nationwide, providing high-level, consistent services.