Creation of the Danube "Donauschöpfung" brings people and ideas together
Published: September 18, 2018
Danube School – a 7-day creation of the Danube between Inn and March
Teams of projects aiming at the improvement of the Danube both as the natural living environment and ecosystem as well as the transport artery and the Danube friends came together to commonly support the old idea originating in the 15th century. GREEN DANUBE, DANTE, DAPhNE and GRENDEL together with the INDanube decided to support this idea bringing people together.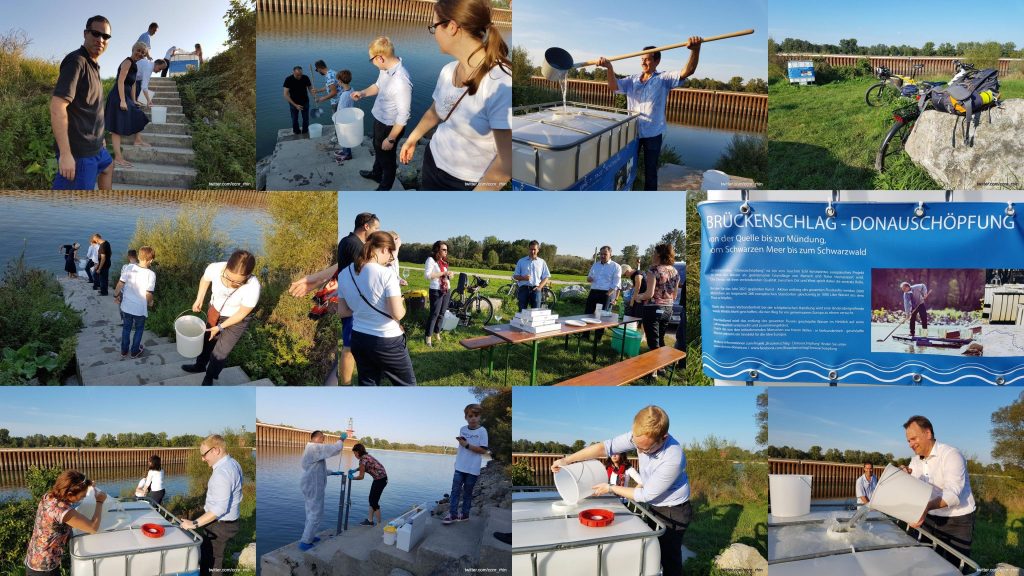 The 7-day creation of the Danube is the prelude to the project "Bridges – Donauschöpfung". From 11 to 17 September 2018, within a week in the river section between the Inn and March (Passau – Bratislava) – in 40 places – in small groups in each case 1000 liters of water from the Danube in containers are drawn. The duration of the creative act of the teams (40 x approx. 1 hour of water creation) will roughly correspond to the time it takes the water in the river to cover the stretch from Passau to Bratislava.
The Danube School
At the end of the 15th century, the masters of the "Danube School" opened a window into nature and the environment that until then had not existed in art. Among their best known representatives are Albrecht Altdorfer, Mathias Grünewald and Lucas Cranach. In the art of the Danube School, nature and the environment become the resonance space of human inner life. It represents the spirit of the West. At the headwaters of the Danube – in western Europe – between Regensburg, Passau and Vienna, the artists at that time deal with the depiction of nature. The central perspective, the view into the space and, associated with it, a scientific world view, have developed from this. Technical excellence and also the materialism of the present are later expressions of this world view.
At the lower reaches of the Danube, in the east, this development did not take place so. There was still the traditional icon painting – operated on a golden background. Here it goes on to the devotional image and its spiritual power. The pictures show no space, shine from the golden space of appearance and serve for meditation.
The direct comparison of works of the "Danube School" with the icons of the eastern Danube region illustrates the differences in the consciousness of the European West and East. The task of Central Europe emerges as the mediator and link between the two spiritual currents – via art – as the idea of ​​Europe.
Art has the potential – as a source of inspiration – to play a defining role in the future development of Europe.
"Europe is a bestowment of the Danube"