2019 CEF Transport Call Info Day
17 January 2019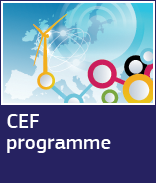 The 2019 CEF Transport Call for Proposals was published on 5 December 2018 and will be open for applications on 8 January 2019. The call makes €100 million of funding available for projects of common interest in the transport sector.
Publication date: 5 December 2018
Call open for applications: 8 January 2019
Deadline: 24 April 2019 at 17:00:00 Brussels time.
INEA, along with the European Commission, will organise an Info Day on 17 January 2019 to present the political priorities and content of the 2019 CEF Transport Call. The Info Day will also provide participants with practical information about how to prepare a successful proposal, as well as other background information relevant to the application and evaluation process. The information day will cover the priorities and main aspects of the 2019 CEF Transport call, evaluation and award process, and will also give tips on how to prepare submit a successful proposal. Interactive Q&A sessions will take place during the information day.
Live streaming
The event will be live streamed (link to be provided at a later date). The info day will also be live-tweeted – follow #CEFTranInfo and @inea_eu.
Register
Registration for this event is compulsory. The registration link will be available later on in December 2019 on the INEA website.
Agenda
The agenda will be available later on in December 2019 on the INEA website.